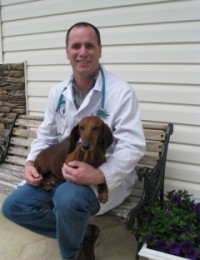 Veterinarian
Dr. Peter Lawson grew up in P.E.I. and will always be a "Maritimer" at heart but loves living in the City of Lacombe.  He received his BSc. in Agriculture with a Major in Animal Science from the Nova Scotia Agricultural College in 1989 and his DVM (Doctor of Veterinary Medicine) from the Atlantic Veterinary College at U.P.E.I in 1993.
Dr. Lawson began his career as a mixed animal practioner in Southwestern Ontario and practiced there for 11 years and then moved to Lacombe in 2004 to find a better work/life balance so that he could spend more quality time with his young family – wife and four children.  Peter practiced in Crestomere and Olds before purchasing the Lacombe Veterinary Centre in 2007.
Dr.Lawson's professional interests are varied.  He is a PennHip certified veterinarian who believes in proper selection to improve breeds and reduce inherited disease in dogs.  Having had geriatric Siamese cats, Peter has had personal experience with the management of hyperthyroidism and Feline asthma.  In addition to companion animal medicine and surgery, Dr.Lawson has a special interest in Dairy Production Medicine and provides veterinary service to several dairy farms in the Lacombe and Red Deer area.
Outside of veterinary medicine, Dr.Lawson enjoys hunting, fishing, hockey, golf and spending time with his family – wife Stephanie, and children Marshall, Sydney, Eric and Karlee and Siamese cats Quinn, Phoebe and Griffin.