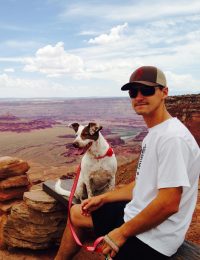 Veterinarian, Practice Manager
Education: Western College of Veterinary Medicine
Hometown: Killam, AB
Pets: Tinkerbell and Jayda
Skylar grew up in the small town of Killam, Alberta. His family operates a feedlot and cow/calf operation. Growing up, Skylar spent a lot of time with cattle and horses on the family ranch. After attending the University of Alberta for 3 years in the Faculty of Agriculture and Life Sciences, Skylar was accepted into veterinary school at the Western College of Veterinary Medicine in Saskatoon, Saskatchewan.
After veterinary school, Skylar accepted a one-year internship position at Arizona Equine in Gilbert, Arizona. Along with his wife, Jennifer, and their dog Jayda, they made the drive to Arizona for a year of work in the sun. Skylar then returned to Canada and his hometown, working at Iron Creek Veterinary Hospital in Sedgewick, Alberta for 2 years as a mixed animal veterinarian.
He is now excited to dive into practice at Lacombe Veterinary Centre and enjoys all aspects of small animal practice, equine practice and bovine practice. Outside of work Skylar enjoys spending time with his wife Jennifer and their young son Jace and has just welcomed a new baby girl, Blair into his family. In his spare time, you can find Skylar riding horses and working cattle on the ranch, farming, playing hockey, snowboarding, cross country skiing, and hiking with his dogs, Jayda and Tinkerbell.